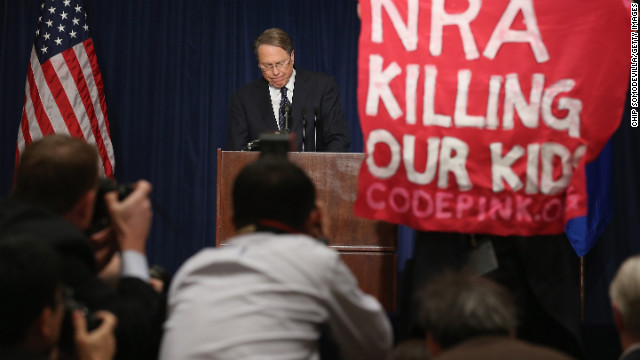 In a public statement today,
the NRA finally responded
to a week's worth of attacks in the wake of the Sandy Hook school shooting.
And how did they respond? With a clear plan to make schools safer: more guns. Specifically, their plan called for armed guards in every public school in the nation.
Let's ignore for a moment the simple lack of any coherent logic in this argument, and instead, let's focus on what this "argument" says about schools as institutions.
1) This argument promotes a vision of a school as a kind of government warehouse. If we're storing these precious commodities--our children--in them, we should certainly put armed guards at the doors. In this view there is no concession that schools are more than simple infrastructure, more than just walls. But schools most certainly
are
more than that. I find this suggestion just as repellent, and for much the same reasons, as an argument that would call for armed guards in black churches or synagogues. Are these locations continual targets for violence? Absolutely. But the idea of armed guards would be so utterly contrary to the spirit and purpose of those institutions, that the idea appears simply wrong.
I would argue that our veneration for schools and the work that goes on there should rival or exceed that which we feel toward houses of worship. The idea of simply posting the "good guys" at the door in order to dispatch any "bad guys" who might walk through the door is vulgar and cartoonish. It is simply one more step in the militarization of
all
institutions.
Furthermore, the concept that there is "evil" in the world and the job of the "good guys" is to defeat that evil through superior firepower should be the kind of thinking which is, through careful critical attention, destroyed by authentic education.
2) When LaPierre asks the question, "can't we afford to put a police officer in every single school?" we should all turn inside-out in horror. If, finally, this is the question we must address about education in America, I suggest it's time to hang it up. One can only assume that when LaPierre uses phrases such as "foreign affairs" he is referring to foreign aid and not the multiple, ongoing wars against children of other countries. To ask that question, in that way, is to show such a shallow, contemptuous view of schools and education, that it's almost staggering. With what is spent on "foreign affairs" we could radically revamp American education, create equitable education for all, and train and retain expert teachers. But when LaPierra speaks about schools, he again speaks only of those warehouses where we store children.
And when he talks about doing what we know works to protect our children, I would argue that the proper answer is already inside of schools: education. Real, live, critical education that leads to the understanding of others as genuine and authentic individuals. That's how we stop the "bad guys," LaPierre included.